Featuring the Work of Rob Reiber, Channel Coordinator and So Much More
April 25, 2016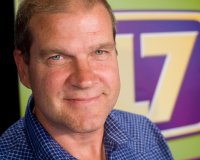 After a more than 30-year affiliation with CCTV and community access media,
Rob Reiber
is stepping down from his role as Channel 17 Production Coordinator.
Rob's influence on community media at CCTV and Channel 17 is deep and wide. He appears in the CCTV archives as early as 1985 in a program about Burlington Electric rate increases, and his interviews with residents at the opening of the boat house in 1987, a class in Super 8 film production in 1991, and a documentary on the lost Shul Mural in 2015 are just a small part of his legacy.
Rob brought diligence, organization, thoughtfulness, patience, and kindness to every single one of the jobs he has participated in. His influence has been felt by many. If you scheduled a show, requested coverage or just walked in the door to talk out your ideas, chances are that Rob has greeted you warmly and facilitated your participation.
Rob has participated in countless hours of studio, live and field production. He has shepherded years of election coverage, scheduled field producers, trained legions of volunteers and otherwise been a rock in the stream of people making media that makes a difference. We are incredibly grateful for the work he has done and for the lodestar he has been for our organization and our community.
On
May 1st
, Rob is moving on from his work at CCTV and Channel 17/Town Meeting TV, away from the world of technology, computers and information into a new role that will limit his commute time and allow him to chainsaw, garden and otherwise enjoy life.
Please join us in thanking Rob for his work and service by sending a note to
morourke

[at]

cctv [dot] org
. Here is a very short list of programs Rob has been involved in over the years at CCTV and Channel 17/Town Meeting TV.
Watch the lifting of the Lost Shul Mural at it's new home at Ohavi Zedek Synagogue on North Prospect Street. The historic 1910 mural, representative of traditional Eastern European Jewish art, was painted by Lithuanian immigrant Ben Zion Black. More information at: http://www.lostshulmural.org
Follow the move of the Lost Shul Mural from the Chai Adam Synagogue on Burlington's Hyde Street, to it's new home at Ohavi Zedek Synagogue on North Prospect Street. An engineering and organizational feat, enjoyed by the many watching, the many participating and the many to benefit from saving this importatnt piece of history and art. The historic 1910 mural, representative of traditional Eastern European Jewish art, was painted by Lithuanian immigrant Ben Zion Black. More information at: www.lostshulmural.org
The Stamp Stampede is a movement to legally stamp messages on money to #GetMondyOut of politics. It aims to amend the US Constitution and states that corporations are not people and money is not free speech. More information at: www.StampStampede.org
A swarm of bees landed in a tree at the corner of Archibald and North Winooski Strets on May 28, 2013. Beekeeper, Kate Blofson, attempts to capture the swarm and relocate. Unsuccessful in the attempt, Kate shares insights into the wonders of bees and introduces viewers to one of her hives.
Wood processor Brian Ladeau of Bristol, Vermont, provides insights into the world of wood processing firewood.
History of the Auer Family Boathouse, with brother and sister Robert and Christine Auer.
Burlington opens a new Boathouse on the lake. Mayor Peter Clavelle kicks off the ceremony. Rob Reiber and Nat Ayer talk to attendees about their impressions.
Reverend Rico Diamond of the New Wine, New Mind Ministries, shares insights into race relations.
Host Rob Reiber, Channel 17 Tim Searles, Executive Director, C.V.O.E.O. Rob Meehan, Director, Chittenden Emergency Food Shelf
Regular volunteer Jonathan McCandless and Rob Reiber share their thoughts on the music videeo genre after screening Jonathan's recent production of a music video.
Richard Kemp interviews members of the CCTV/Channel 17 staff as part of CCTV's 25th anniversary.
Rob Reiber, Host Mr. Celly Luyinduladio, Author
Host Rob Reiber speaks with Lt. Governor Brian Dubie on the year ahead and his candidacy for Vermont Governor. Under the Dome is sponsored by: Subscribers of Channel 17/Town Meeting TV; National Life Group; Fletcher Allen Health Care, Entergy Vermont Yankee and Green Mountain Power.
Rob Reiber talks with Channel 17 youth volunteer LC Hines on his passion for technology. This turned out to be one of Channel 17's most popular programs of 2010.
Host Rob Reiber talks with Jean-Pie Mutume, President and Founder, amd Muyisa Mutume on the current situation in the Democratic Republic of the Congo and efforts being made by the recently formed non-profit Support the Congo Inc.
National Guard Deployment to Afghanistan. National Guard Deployment Interviews with families and guard members. This program also has an interview with Navy Adm. Michael Mullen.
City Council candidates for the 2 year seat include Frank Geier and Paul Engels. Rob Reiber moderates.
Interview with local legislators on their initiatives and perspectives. Host Rob Reiber speaks with Representative Bill Aswad (D) of Burlington, member of the Transportation Committee.
Host Rob Reiber speaks with Ali Haji Jafari on Islam, Arab uprisings and 9/11 among other topics.
Don MacDonald, Bus Transportation Advocate, and Rob Reiber, Addison County Resident, talk about the new commuter bus route from Middlebury to Burlington, following Route 116 through Bristol, Starksboro, Hinesburg, through a collaboration of Chittenden County Transportation Authority (CCTA) and Addison County Transit Resources (ACTR).
Channel 17 Volunteer Jonathan McCandless speaks to current issues, local and national.
Abdullah Sall speaks with Channel 17 staff on his perspectives of the Mayoral appointment of Brandon del Pozo as Burlington's new Police Chief.
Local activist Albert Petrarca speaks to patterns in the emerging Miro/del Pozo style of policing and its connection to the growing gentrification of Burlington.
Featured Story
Join us for a community conversation about "Fake News" on October 16th.